FERROEQUINOLOGY

Summer Saturdays to the West (GWR) - Summer Saturdays (SR)   -   Main Line Preservation

Last Days of BR Steam - Last Gasps of Southern Steam -  Feltham Yard in the Late 50s  -  Sad Sights at Southall

Isle of Man Railways - Talyllyn Railway - Ffestiniog Railway - Llanberis Lake - Derwent Valley Light Railway - Lochty Private Railway

Germany - the South Cerman Railway Museum

H16s AND OTHER FAVOURITES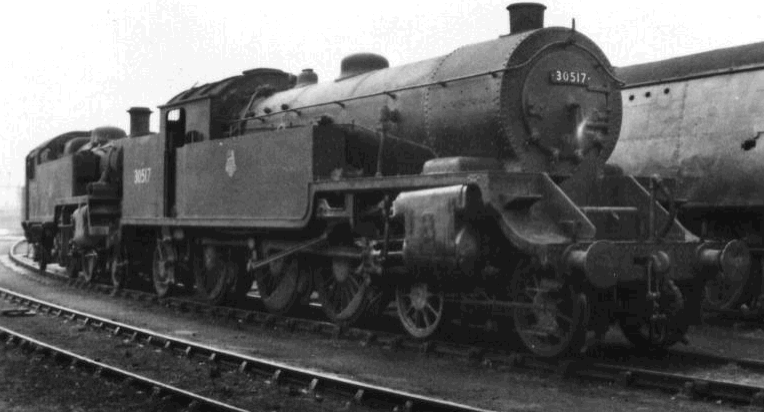 30517 (above) serves here as the archetype of ferroequinological interest.

Designed by Urie, the Southern Railways Chief Engineer, there were five of these H16 class 4-6-2 tank locomotives, numbered in the British Railways series 30516-30520 after nationalisation in 1948. All were initially allocated to Feltham shed (70B) in West London, for working transfer and other freight from the massive marshalling yard which was built there between the wars. They remained at Feltham until the late 1950's at least, occasionally varying their freight work with empty carriage stock workings from Waterloo to Clapham Junction and beyond, particularly during the summer, replacing M7 tanks on these duties.  Several of the class also served a turn at Fawley, operating oil trains from the terminal there, around 1960.  All were scrapped in the early -'60s and none survive. I don't know when or where the picture above was taken, or by whom. I bought it at a model railway show somewhere in the 60s. It's unlikely to be at Feltham as the two other classes shown were rare there, nor is the track curvature familiar. At a guess, Eastleigh.

And above, glamour shots of two more of the H16s when relatively new, in Southern Railway livery.

Family - the G16s

Here is a fine study of the sister class to the H16s. These are the G16 4-8-0 tank engines designed by Urie for hump shunting at the then newly opened Feltham yard, which had both an up and a down hump.  By the 1950s they had been replaced on hump shunting by diesel shunters (the BR 08 class) and shared a lot of the heavy transfer freight work from Feltham with the H16s.  30495 is here in almost ex-works condition, complete with the later style lion and wheel emblem.

Other SR Favourites around West London.

The Q1s were unique - boxy, no footplate, same wheels as the Merchant Navy, West Country and BB class - "austerity" design. But hard working freight locos with a fair turn of speed.  There was a part-fitted freight turn out of Feltham to the East via Hounslow every weekday morning at about 8.45 which usually had a Q1 going hell for leather. First two wagons were often cattle trucks emitting anxious moos !  The picture below is not mine, I found it in a box on a stall,  it is attributed to H.C. Doyle, and it shows a very typical scene on the Hounslow loop. 33011 is coming off the goods lines at Brentford, heading for Feltham, with a mixed freight. Shifting brake vans back to their home region, or to where they were needed, was quite a common sight, and the alternation of mineral wagons, box wagons, low loaders, and bogie wagons makes this freight quite typical.

Another workhorse of the Hounslow Loop, a 700 class 0-6-0 approaches Hounslow from the East with a freight for Feltham sometime in the summer of 1957 or 58.  The 700s were quite an elegant class, often seen on light freights, sometimes also taking on the pick-up freight duty, stopping to shunt the yards at Hounslow, and Brentford, and various sidings along the way.